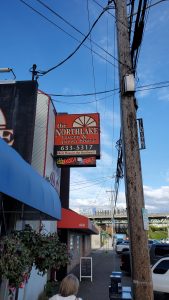 I was heartbroken when I read the news that Northlake Tavern and Pizza House is closing their doors as of January 31st.  Northlake Tavern, located near the north end of Lake Union in Seattle  near the U District, has been serving the same quality pizza since they opened their doors in 1954.
I started going to Northlake Tavern when I attended the University of Washington, from 1974 – 1978.  It was a special treat for a college student, because often it was out of our price range.  But love it, we did.  On my last visit, before moving to Hawaii after graduation, the legendary Don James was eating at Northlake with a few friends.  I met Coach James in Hawaii 5 years later when the Huskies were playing in the Aloha Bowl and actually had the pleasure to take him to lunch. I told him my story of seeing him at Northlake, and he said Northlake Tavern's pizza was his favorite of all time.
Almost every trip home from Hawaii to visit friends and family included a trip to Northlake Tavern. And after moving back here in 1989, I have tried to make a yearly visit to the shrine of Northlake.  I often bring friends visiting from out of town, from places as far away as North Carolina and Pennsylvania.
I suppose they have other items on their menu, but why mess with perfection. Their large combo weighs in at over 6 pounds and is covered with Italian Sausage, Pepperoni, Mushrooms and Olives.  Other pizza fads come and go (Deep dish, oven fired, etc.) but none have matched the beauty of a Northlake Pizza.
I contacted a friend and former co-worker from my days in Hawaii, who now lives in Seattle, and told him we need to go this weekend.  We will be there Sunday afternoon.  I suggest you do the same before January 31st.
https://seattlerefined.com/eat-drink/seattle-northlake-tavern-pizza-closing-small-business-big-marios-pnw-restaurant-closure#
https://www.facebook.com/northlaketavern/posts/pfbid0gkPvfp3yHBDbczmzhPn7hiTBrtayhES27wzqUDxSxi3PnRLVhukYTTcZdhsAPyCyl